Bloomberg, a financial, software, data, and media company headquartered in Midtown Manhattan, New York City., has made a publication where it warned Nigerians against the victory of President Muhammadu Buhari.
Buhari, Nigeria's president, under the political party of the All Progressive Congress, APC, was few hours ago declared winner of the 2019 presidential election by the Independent National Electoral Commission, INEC.
He contested alongside his arch rival, Alhaji Atiku Abubakar of Peoples Democratic Party, PDP. A former vice president who scored total number of 11.2 million votes out of 27.3 million total valid votes.
However, Buhari emerged victorious after scoring a total number of 15.1 million votes out 27.3 million total valid votes. To this, Buhari was declared winner by INEC.
But Bloomberg has predicted Nigeria's economic future if Buhari won the 2019 presidential election.
According to a post published in its website, Bloomberg.com, with title; "A Buhari Win Would Limit the Growth Rebound in Nigeria". The publication gave analysis that Buhari's win will spell bad for the Nigeria GDP per capita against its peers in Sub-Saharan Africa.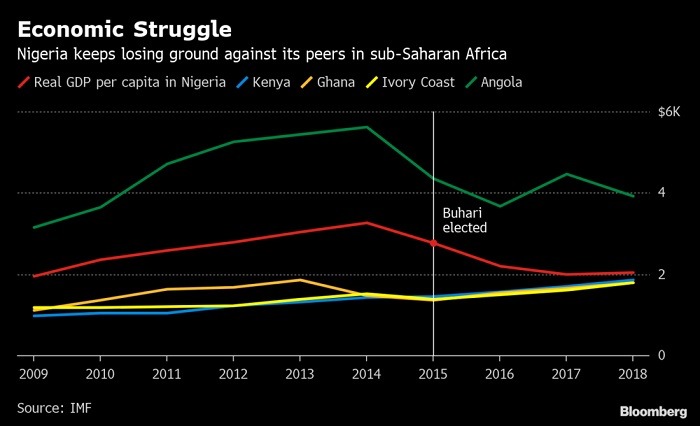 The post reads;
"If President Muhammadu Buhari wins another four-year term it will probably mean more political interference in Nigeria's economy and slower growth, according to research by Bloomberg Economics.
"The opening of the Egina offshore oilfield this month and the Dangote refinery next year will deliver a near-term boost, but low capital investment is likely to inhibit growth over the medium term.
"BE (Bloomberg) expects Nigeria, Africa's largest oil producer, to keep losing ground in real GDP per capita against its peers in Sub-Saharan Africa.
Source: Bloomberg
The question remains, what would happen to Nigeria's GDP per capita as President Buhari has been declared winner of 2019 presidential election?