By Ngozi Onwukwe, Uchechukwu Adighibe
Faulks road has always been one of the worst roads in Aba. For years, this road which also leads to the Port Harcourt\Enugu express road has been in the bad state.
Despite being a very busy business area, Faulks road houses one of the biggest and the largest market of the nation known as Ariaria International market, Aba.
Today, the completion of rehabilitation work on the road, which leads to Ariaria International Market, is bringing relief to residents and outsiders who visit the area.
Built in 1976 by the old Imo State government, Ariaria, the pride of Abia State and the entire Southeast region of Nigeria, hosts patrons from West and Central African sub-regions.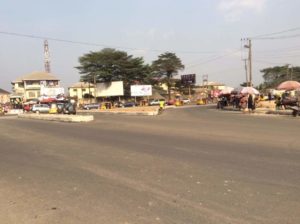 Aba is not complete without Ariaria International Market. Apart from being touted as one of the biggest markets in West Africa, Ariaria also hosts the finished leather cluster, makers of the popular Aba-made shoes, trunk boxes, bags and belts.
While the ever-busy road was in a bad state, motorists found it devastating and non-conducive to ply.
Today, the deal is done by the present government of Governor Okezie Ikpeazu. Faulks road, which was formerly one of the worst, is presently one of the best roads in Abia state and Aba precisely.
Starting from Brass junction, the road has been rehabilitated in such a way that motorists driving from Aba-Owerri road, divert easily.
The traffic flow is amazing, easing off the traffic congestion from the lone city road, Aba Owerri road.
Residents send Save Our Souls (SOS) message to Ikpeazu;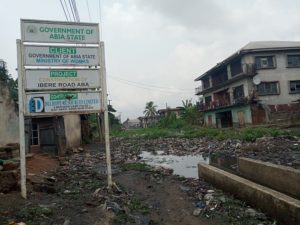 To this end, residents are calling on the state government to repeat same on other roads in the other parts of the city which are in a bad shape. As raining season approaches, some of the residents in the city of Aba have expressed fear, noting that despite the heat, they are afraid of the rainy season.
Mr. Maxwell Mbagwu, (a resident of Aba) a landlord at Obohia Road, off Nkwor-Ngwa Market in Ndiegoro axis, speaking with ABACITYBLOG, said he is afraid because he knows that him and his tenants are about to see the painful part of 2019 faster than expected.
He said: "To be honest with you, I don't hate rain. But I now fear rainy season because of where I found myself. The weather is too hot, yet people like me are afraid of seeing rain. Do you think that's normal?
"You came here by yourself and you can see why we are afraid. We are about to begin a new phase of our suffering for this year so so early. I was thinking that it will be by February, but it took us all by surprise yesterday", he added.
While residents of Faulks road, MCC road, Ukaegbu road, etc., are enjoying free flow of traffic in their areas due to the rehabilitation of the various roads by Ikpeazu's administration, residents of Igbere Road off Ohazu Road, within the same Ndiegoro axis are calling on the governor to finish up the road started by his administration.
A resident, who simply gave her name as Mrs. Celine pleaded with the governor Ikpeazu to instruct the contractors handling the Igbere road to come back to site.
She said that the abandoned drainage from Ngwa Road to Igbere Road, channeled all storm water from the first 2019 rain into their residents thereby making them homeless.
"Our homes were like river yesterday. Those who went out couldn't return while those of us at home had to endure the whole problem. We don't know if they have stopped the construction, but the drainage stopped that place you're seeing there.
"We are suffering and we plead with the governor to save us before we perish. The smell of the storm water is what no one should wish his enemy to perceive. We are pleading for mercy and help please", she pleaded.