His Imperial Majesty Eze Isaac Ikonne, The number 1 king of Aba, today in his Royal Palace at Osusu-Eziama Aba, endorsed the duo of Sir Marc Wabara and Chief Mascot Uzor-Kalu for Senate Abia South and Aba North and Aba South Federal Constituency.
Wabara, the former Managing Director of Hallmark Bank and Abia South Senatorial candidate of the All Progressives Congress (APC) got the blessing of Eze Ikonne who assured him of his victory from God in the forthcoming Senatorial election in the zone
The Enyi-1 of Aba also blessed and endorsed Chief Mascot Uzor-Kalu, the APC candidate for Aba North and Aba South Federal Constituency.
He passionately blessed the duo and urged them to go all the way to the election without fear as their victory is assured. He also adopted and endorsed the duo as sole candidates for their various positions.
It will be recalled that it was the 90 years old Royal Father who in 2015 as against all odds, accepted and blessed President Muhammadu Buhari before the election assured him of his victory which later came to pass.
In similar situation, His Imperial Majesty also assured Wabara and Mascot that the same blessing that made Buhari the president of Nigeria shall follow them till the day of victory.
"Chief Wabara is a man I know very well. He respects people and because of that God will give him his heart desires. Because of his sincerity and clean track record, I adopt him today as our only candidate who will go to represent Abia South in the Senate. I blessed him and speak that success shall be his portion in the name of Jesus.
"We had an agreement in this Abia South that Senatorial sit Will rotate among Ngwa and Ukwa which are the two ethnic units in the zone. I'm an Ngwa man and I'm among those who moved for the creation of this state and I wouldn't watch it fall.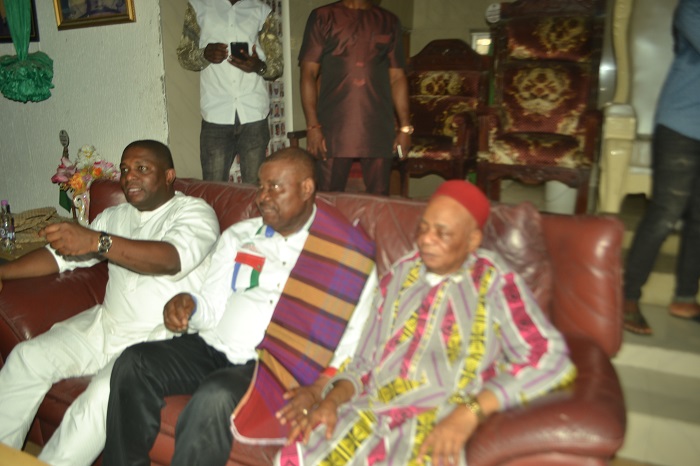 "It's impossible for one man to be the first and second son in a family of two sons. I've seen it all in life. I'm not a child. I can't fail to say the truth. The truth is that it's the turn of the Ukwa part of Abia South to produce our Senator and I as a foremost king in Ngwa land, Abia South, Abia State and Nigeria as a whole stands on the truth.
"Ngwa has taken their turn and now it's yours. Whoever said you'll not succeed will fail woefully. When you get their, don't forget our people as others have done. You'll succeed and God will bless you. I blessed Buhari here and assured him of his victory and today, I send same blessing to you and you'll succeed in Jesus name," Enyi Aba said.
The foremost Royal Father bestowed on Wabara a Chieftaincy title of Enyi-Oha (friend of all) and urged him to remain a friend to everyone even when he eventually gets to the Red Chambers.
Sir Marc Wabara expressed his unreserved joy and promised to run an open door policy that will accommodate everyone when elected a Senator.
Wabara thanked Eze Isaac Ikonne for his blessing and described him as a prophet who saw what many people didn't see in President Buhari in 2015.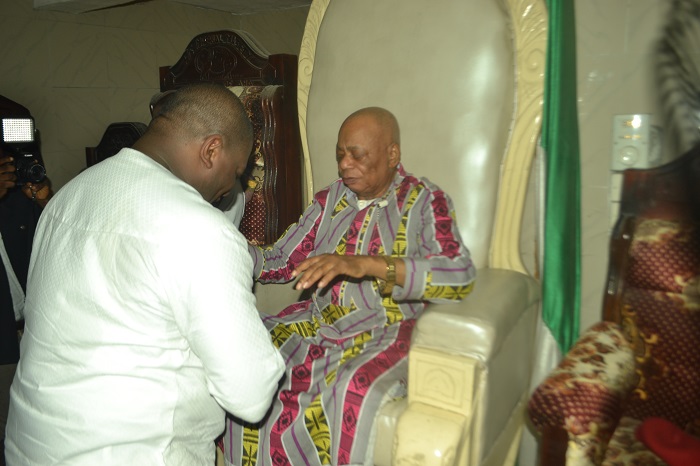 "It was in this palace that our dear President Muhammadu Buhari was blessed and adopted against all odds. People thought it was all a joke then, but the blessings of this our father is from above because he is a man that God is using to do what others cannot do.
"Papa, I'm here as one of your sons to also partake in that blessing that God is using you to pass onto our people. I promise I'll never abandon our people. Change will come to us as it touched other states in 2015."
Also speaking, Chief Mascot Uzor-Kalu thanked Eze Isaac Ikonne and described him as the father of all.
He assured the people of Aba North that he will never fail to Represent the Aba Federal Constituency very well as he is not coming to feed his stomach, but to serve the people.