Bayern Munich, had made a perfect day yesterday as they thrashed Wolfsburg 6 – 0.
Bayern, who host Liverpool on Wednesday in their Champions League, last 16, return leg clash after a goalless draw at Anfield, went top on goal difference from Dortmund, who needed late goals to win 3-1 at home to Stuttgart.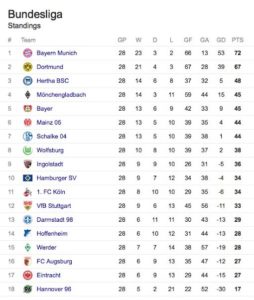 Robert Lewandowski scored twice, leaving him with 20 goals in 17 league games against Wolfsburg, while Serge Gnabry, James Rodriguez and Joshua Kimmich also netted.
In reaction to their victory, head coadc of the club Niko Kovac, said, "I'm very pleased. We want to be just as focused on Wednesday,"
"We are now where we want to be — first in the table and that's where we want to stay," added Kovac with nine rounds of league games left.
The club will be playing against Liverpool on Wednesday March 13th.