…as Traditional Rulers deny endorsing Ikpeazu for second term.
Kenneth Udeh – Abia
Hon. Nkeiruka Onyejiocha a member of the Federal House of Representatives representing Isiukwuato/Umunneochi Federal constituency has described the leadership of Governor Ikpeazu and Senator Mao Ohuabunwa as a failure and abysmal calling on the people to vote them out.
This is just as the Traditional Rulers in Isiukwuato described the news of Ikpeazu's endorsement by them as "fake" and should be disregarded.
Hon. Nkeiru stated this on Sunday at the palace of H.R.M. Eze Dr. Ezo Ukandu (J.P.) Enyiaobiangwu 1 of Imenyi Kingdom Isuikwuato L.G.A. during a courtesy visit of the All Progressives Congress Campaign Team led by former Governor of Abia State and Abia-North Senatorial Candidate Dr. Orji Uzor Kalu.
There no holds barred for the House of Representative candidate of the APC as she described the administration of Governor Ikpeazu as a failed one, stating that Governor had not performed to deserve a second term in office.
In her words: "Ikpeazu turned Abia State University into Ngwa high school, the Government no longer pays subvention to the university in fact the students even pay higher than most private schools in the country. The school was closed down and the students were forced to go home and source for their school fees before it reopened such had never happened anywhere in the world.
As your Representative I stood against it which is one of their grievances against me and of course that was why they vowed that I wouldn't return to the house of representatives".
Speaking On the issue of erosion, Hon. Nkeiru attributed the non-cooperative and ineffectual attitude of Senator Mao-Ohuabunwa she said: "the truth is that we don't have an influential and strong personality like Dr. Orji kalu at the Senate because politics is all about how influential and what you can offer.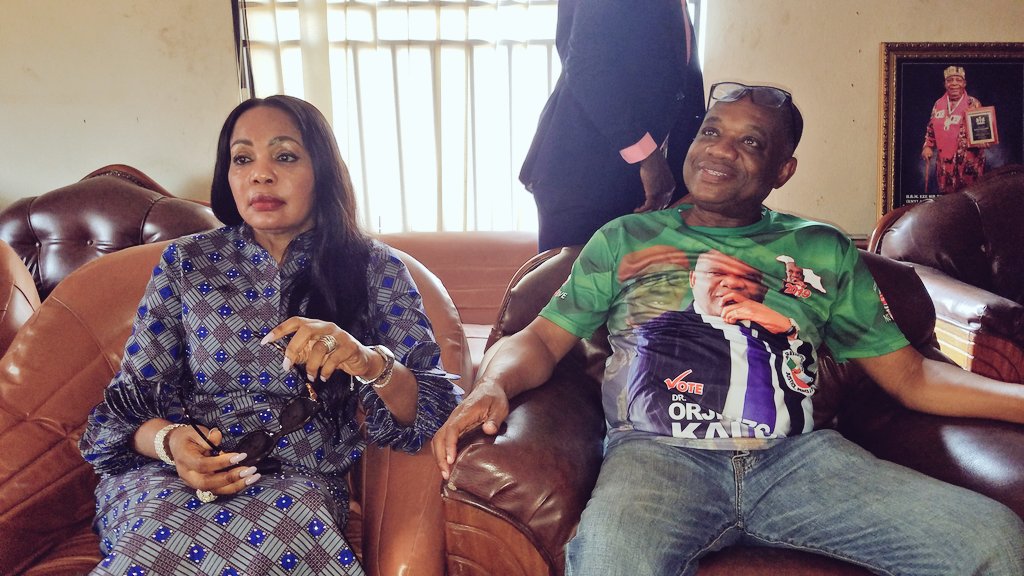 I can bet you that when Dr. Orji kalu gets to the Senate the issue of erosion will be the first to be tackled. Mao does not deserve a second term because he was failed woefully to deliver. As lawmakers from the same constituency we were supposed to cooperate by doing what is expected of us at the Federal Level but unfortunately he choose to cause conflict between us by joining forces with other lawmakers to fight "Isuikwuato".
Speaking further on Governor Ikpeazu she said: "Okezie Ikpeazu became Governor on a "platter of Gold" as a result of zoning, but his 2nd term will be judged by the true essence of leadership which is "performance" and he has performed so poorly. Senator Mao-Ohuabunwa cannot deliver even if he is left to continue for the next 20 years he will still fail to deliver, he lacks everything it takes to perform or deliver.
When Orji Kalu was Governor he ensured that political appointments were evenly distributed across every constituency to the best brains. Isuikwuato had a commissioner for finance but since he left the zone hasn't gotten a single appointment Isiukwuato has been totally neglected. They decided to fight me because I spoke and stood against their bad leadership that was why I had to realign with Dr. Orji Uzor Kalu to restore the dignity of Abia – state back to its glorious days".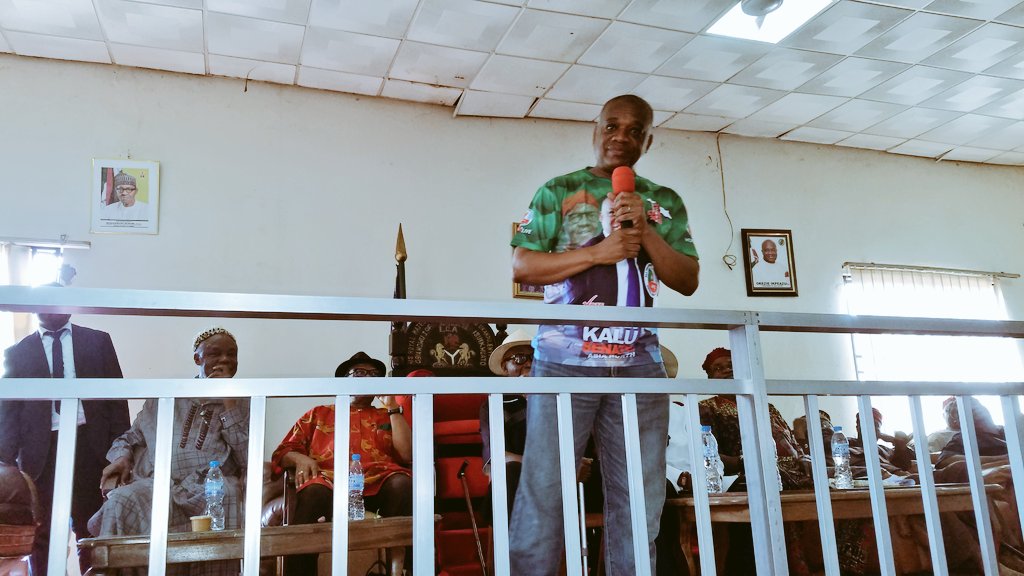 Hon. Nkeiru also canvassed for the support for the re-election of President, she urged the Southeast to vote massively for Buhari's second term as it was a Golden opportunity for the Southeast to Produce the next President in 2023.
She said: "As Igbos I want you all to vote massively for President Buhari, we can't afford to waste our time. The Presidency has assured that the Southeast will produce the next President in 2023 and the 2019 elections is our golden opportunity.
President Buhari and Atiku are both from the North, same tribe and religion but the difference is that President Buhari will use only Four Years to complete his tenure before he hands over to the Southeast but Atiku according to the Nigerian political norm will use Eight Years to complete his tenure, meaning the Southeast will have to wait for Eight more years to get any opportunity to produce a President for our country. Dr. Orji Uzor Kalu who is also a good friend to the President is capable and very qualified to take over from President Buhari in 2023. We have jointly agreed that Dr. Orji kalu will lead us to the Federal level.
"I want assure you all that I and Dr. Orji Uzor Kalu will lead us to restore the dignity of Abia-North by working as a team. Vote massively for Dr. Uche Ogah and other APC candidates.
Dr. Uzor Kalu in his addresses berated the traditional rulers over the news of the endorsement of Governor Ikpeazu despite the realities of suffering and infrastructural decay in the state.
I heard over the radio that the Eze's in Isiukwuato endosed Okezie Ikpeazu for a second term, I believe it is very shameful act judging from the existing realities of bad leadership and how your constituency have been neglected in the last 3 years.
This is an opportunity to vote capable and influential leaders to restore Abia state to its rightful position . You all know my capabilities and pedigree I possess a personality which is a required to be a Senator I cannot be intimidated by anyone at the Senate because I am a strong brand.
This is not a time to sit on the fence you all have to join forces and support Dr. Uche Ogah it is about the future of Abia State. I urge you all to vote massively for Dr. Uche Ogah, myself and other APC candidates
Dr. kalu said "Because of politics they wished and propagated the news of my death and at the same time they continued to promote lies on the payment of workers' salaries all over the media. When I was Governor I never owed salaries or even pensions and gratuities. I made sure that even the traditional rulers received their monthly stipends. I am the one that made them Governors and I will still be the same person to unseat them".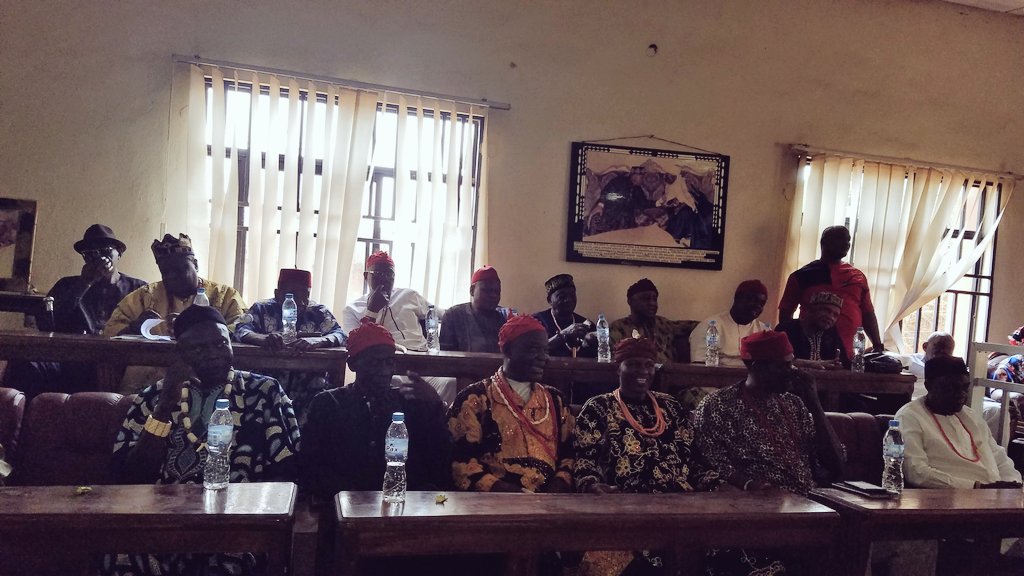 The former Governor also vowed to resist election rigging saying: "I believe in democracy because this time around our votes must be counted and the results announced all we ask for is a free, fair and credible election. We shall resist rigging and other electoral malpractices by all means. The winner of the election must be announced and declared.
"As custodians of tradition and culture you must be involved in bringing sanity to our politics the Ezes must be at the polling units to guide your votes. You should be courageous enough by using your position speak out and stand against the bad leadership in the state. I feel pained when I see most of the youths in our state today many have become touts, engaging in all forms of vices. As a Governor I never tolerated such that was why I provided free education and reduced the tertiary education tuition fees.
"One of my plans at the Senate will be to propose and sponsor a bill where traditional rulers will have a constitutional role in Governance so as to put a stop to the influence and powers of Governors over the traditional institutions. I want the traditional institutions to be strong so that they can speak up against ills in the society.
Dr. Kalu also rallied support for President Buhari saying: The most expensive single Federal Government project in the country today is the 2nd Niger bridge. The President apart from other roads he has constructed in Abia –North also approved from Ovim to Acha Road the contractors are ready to embark on the project. The President has given the approval for the Akara to University road, Ohafia to Arochukwu, more than 30 Roads have been approved.
Ikpeazu's Endorsement "Fake News".
The Traditional rulers in their response debunked the news of the endorsement of Governor Okezie Ikpeazu describing the news as "fake".
Speaking on behalf of the Traditional Rulers Eze Charles of Isiyi Autonomous community Isuikwuato expressed their excitement towards Dr. Orji Kalu stating all he did while he was Governor of the State.
He described the news of Ipkeazu's endorsement as fake that Governor Ipkeazu was never adopted.
He said:" You know that we don't make pronouncements on radio. What we can only do as traditional rulers is to pray for them. As for the Governorship we shall support anyone who is capable and can deliver than the current Governor. It is a blatant lie that we endorsed Governor Ikpeazu we are solidly behind Dr. Uche Ogah and it will be a blessing to us.
"It is very unfortunate that we have been pushed to the background, today there is no single constructed road in Uturu even a single kilometer of road, we are crying because we have been abandoned including Isiukwuato what offence have we committed to deserve such treatment.
"We shall support you all the way to represent us at the Senate because we believe in you and we wish you well.