By Kenneth Udeh – Abia
It was an atmosphere charged with anger and lamentations as Traditional Rulers drawn from Umuneochi L.G.A. Abia State converged and expressed their uttermost disappointment at the Ikpeazu PDP led Government of Abia State.
The council of traditional Rulers made this known yesterday when they played host to Dr. Orji Uzor Kalu when he paid a courtesy visit to the Palace of Prof. S.I. Nwankwo the Digbo 1 of Umaku, Isiochi.
The traditional rulers were uneconomical as they while recalled their horrible experiences under the tenure of Governor Ikpeazu.
They expressed how they had been neglected by the Government of Ikpeazu over the years coupled with state of infrastructural decay in their community and non-payment of workers' salaries and pensioners. They vowed to express their grievances at the polls by voting out the PDP led Government in the state. support Kalu and other APC candidates and vote out the Ikpeazu led PDP Government.
The Council of Umuneochi Traditional Rulers have further unanimously endorsed Dr. Orji Uzor Kalu as their Senator for Abia-North. They also collectively decided to mobilise support for him and other APC candidates in the zone.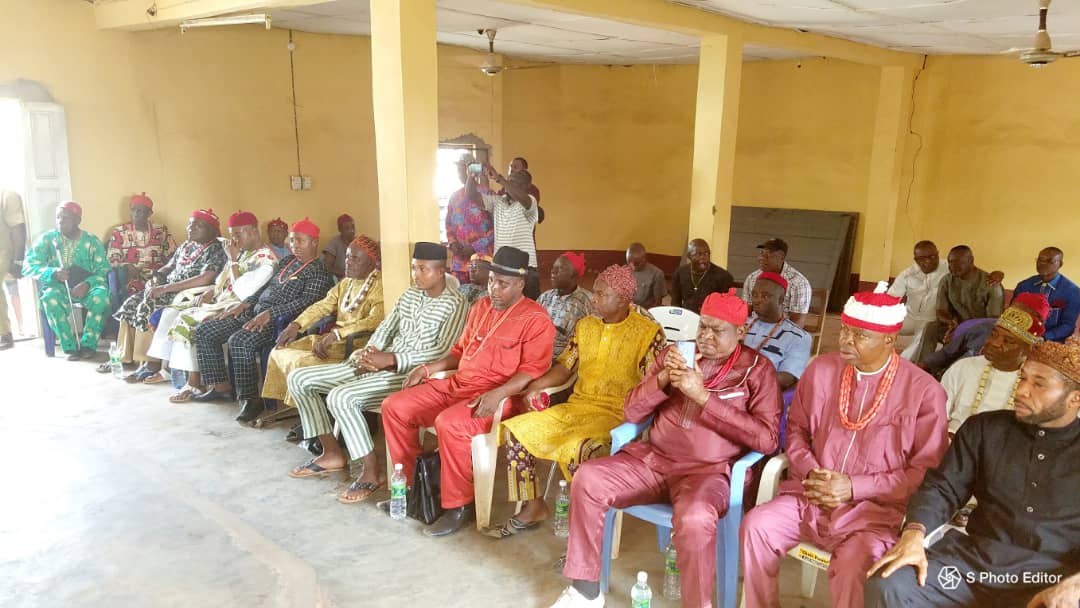 Addressing the traditional Rulers Dr. Kalu charged the traditional Rulers to speak up against the bad leadership in the state. Stating that Abia State was in need of immediate rescue that it was no longer about politics but about the realities of bad governance in the state from the non-payment of salaries, owing of pensioners to infrastructural decay and so on.
Kalu said "If I were still the governor of this state judging from the various huge monthly revenues that the current Government generates coupled with the Paris club funds Abia would have been transformed for better to an advanced state than I left it.
Just look at Abia State University today when I was Governor the students were paying as minimal as N7000 as against the outrageous amount they are paying today which is not even commensurate to the current standard of education the students receive. We heavily subsidized the tuition fees for each student the records are there. Despite the meagre revenue we were receiving. We never owed civil servants and pensioners, our children were given free education. People ask how did I do it I tell them It's not magic it's all about the zeal and planning.
As Governor I concentrated on empowering the less privileged and giving a leverage to the poor. The future is in your hands under the current Government our youths have become touts".
On his Senatorial bid: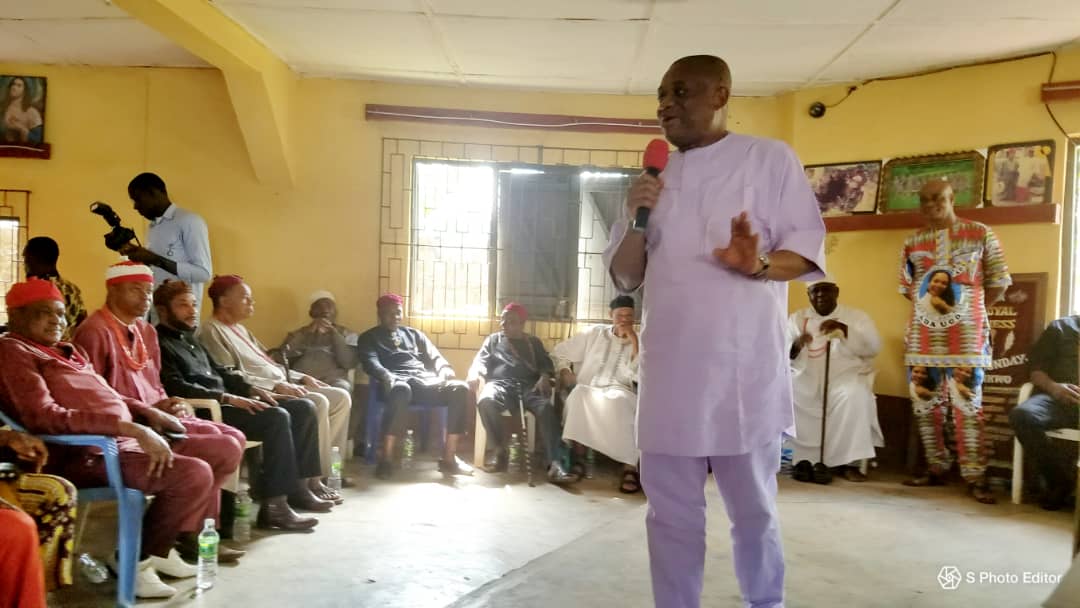 Kalu said Abia-North needs a Senator that is vocal and highly influential like myself let me also state that once I become a Senator one of my Ist task will be to formulate a bill that will include traditional Rulers in Governance. I have always been part of you and I will never disappoint you.
Recalling the good legacies of Dr. Kalu as Governor of the state Prof. S.I. Nwankwo the Digbo 1 of Umaku, Isiochi described Dr. Kalu as a man with a large heart. He also stated that only accessible road in the community was the one Dr. Orji Kalu constructed 13 years ago when he was Governor of the state.
In his words: "There are so many good things to say about Dr. Orji Kalu. I was astonished how he was going round the hall exchanging pleasantries with all the elders. Unlike many other politicians he was a very big heart a very large heart that is the magic of Dr. Orji Kalu.
"I can remember that when he was Governor of the state I mobilized other traditional rulers to meet him over a certain issue we thought we wouldn't be welcomed or he would be annoyed with us for questioning his authority but he welcomed us with open arms and commended us for coming to him. That is the difference between Dr. Orji Uzor Kalu and other Political leaders in our country and he has won our heart. You are one politician who is accepted by everyone and political party regardless of political affiliation".
"The Umuneochi monarch further raised a motion on the endorsement of Dr. Orji Kalu which was supported with unanimous voice votes from the hundreds of first and second class chiefs present.
One of the traditional Rulers in his remarks HRM. Eze Godson Ezekwesili the Ochi 1 of Isochi said: "Dr. Orji Uzor Kalu we want to assure you that you will not loose one vote in Umuneochi. Governor Ikpeazu does not regard us. Pensioners are dying these PDP Band wagons must go away. We are with the APC all the way. We are not scared to say the truth.
"The only road in Isiochi is the one you built when you were Governor Please don't forget to tell them when you get there that Abia Traditional Rulers are the worst treated in the nation. Our last monthly stipend was paid in October last year our children have become touts due to the decay of education in the state.
Also Eze Oke Chukwuchi the Logo 1 of Amuda had words for T.A. Orji a former Governor of the state now Senator he said: "T.A. Orji disappointed Abians and he hates Umuneochi. He must leave and he must go. It's unfortunate that our state capital Umuahia today is still an advanced village. We can't keep quite when things are going wrong we shall make sure we unseat Governor Ipeazu".