#StartupSouth is happy to invite organisations, individual to become content partners for #StartupSouth5 Uyo, Akwa Ibom State between October 29 – November 2, 2019.
#StartupSouth5 provides opportunity for brands, organisations and individuals to orgnaize contents that promote ideals they care about. You are free to organize contents such as Masterclasses, Panels, Fireside Chat, or Keynote on topical areas that includes (but not limited to) education, HR, health, latest tech (AI, ML, Proprietary Systems), behavioural, business startups, finance, Energy, Policy, Marketing, Sales, Lifestyle, Travel, Housing, Sports, Entertainment or any other area that adds value to the theme.
These content can be in any of the following format – Masterclasses, Panels, Fireside Chat, or Keynote
We will provide the venue and other venue logistics completely free (subject to terms). Kindly apply here [http://bit.ly/ss5content] if interested. More detail can be seen here [http://bit.ly/ss5broptnr]. Some of 2018 Videos can be found here [http://bit.ly/owvideos]
Unlocking the next 60 Million was chosen as 2019 theme to explore deepening economic activities in the regions – from an infrastructure perspective. We believe that the conference will be a good opportunity to engage with people in the regions – especially your existing and potential agent/network/community members. It will also feature a tour of Akwa Ibom state in partnership with Goge Africa.
Content Partnership will not confer on-premises brand visibility opportunities. Sponsors automatically qualify for exhibition space. There are plans to air the Keynote and a special Governors' Panel Session on Live TV. Sponsorship plans starts from N500,000. If interested in sponsoring, we are happy to discuss/explore more ways to achieve your corporate goals.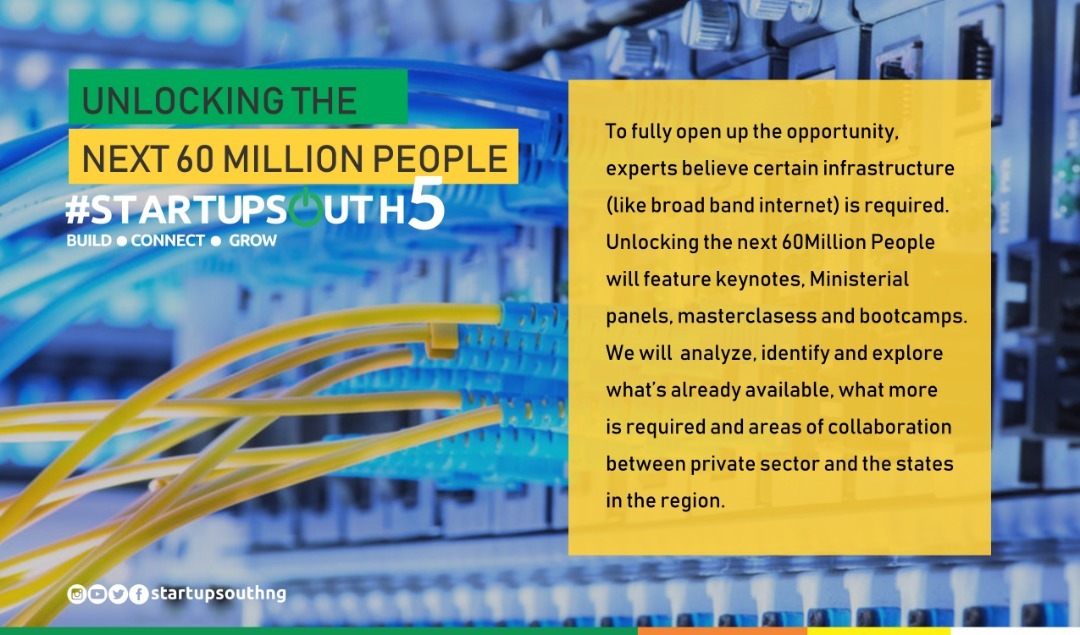 About #StartupSouth
#StartupSouth is a Startup/Entrepreneurship ecosystem development initiative with a mission to educate, connect and attract investment/support to Startups in the South-South and South-East of Nigeria. It is a social enterprise that believes in the power of entrepreneurship for development.
Every year, we gather the best innovators, thought leaders, founders, investors, policy makers etc from across Nigeria/the regions to a city in the South-South/South-East for networking, business education and investment opportunities.
Over 5000 people have attended a #StartupSouth event/training physically/online and over $400,000 has been raised by #StartupSouth founders.
We look forward to partnering with you.