It was a celebration of the high level performance of the All Progressives Congress candidate for the 2019 Abia North Senatorial election, Dr Orji Uzor Kalu on Saturday as thousands of indigenes of Abiriba trooped out to participate in Kalu' s campaign in the five ABSIEC wards of Abiriba community in Ohafia local government area.
Since last three weeks , Abia APC campaign train led by the former governor himself have traversed all the five local government areas that make up Abia North Senatorial zone which includes Bende , Umunneochi, Isuikwuato, Ohafia and Arochukwu
The five ABSIEC wards covered today were Amaogudu, Amamba, Amaeke, Agborji, Amaeke 11
Speaking at the campaign, the former local government chairman of Ohafia High Chief Uche Ogboso poured encomiums on Kalu . He said during his time as executive chairman, "Dr Kalu who was governor then did not meddle in the finances of the local governments councils in Abia State . "
This according to him , helped the officers to perform in their different capacities.
"But today, the situation is totally different because the present government has seized all the leverages to such that not even a single project is carried out by the local government councils. Therefore, before you today is a choice to make; the choice of a road working senator and a frying pan senator "
Also speaking, a chieftain of the APC , Chief Obasi Uba charged the people to stay away from liars. According to him, "it's better for Abiriba to follow candidates that do visible projects and avoid those with only online presence. There are more than 34 KM roads done by Dr Kalu and we look forward to him doing more. So we must follow the people that do what they say and what they do must be visible to us. "He said Kalu as a non senator has performed excellently and would do more when elected.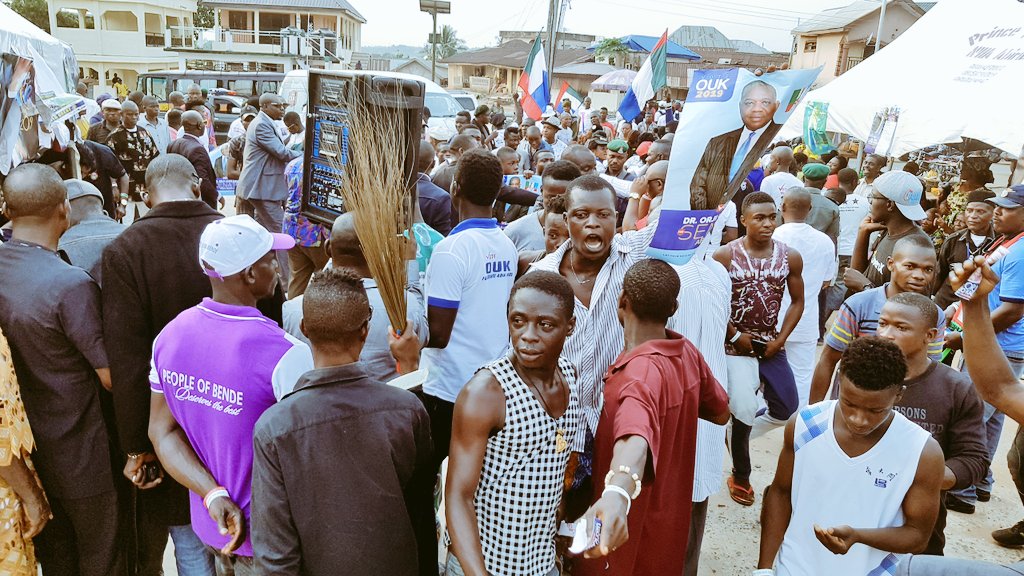 The APC candidate for Ohafia/ Arochukwu Federal Constituency Chief Nnamdi Iro Orji thanked the people for the heartwarming welcome given to Dr Kalu.
He narrated how he frequented Kalu's home pleading with him on the need to rebuild some dilapidating Abiriba roads.
He said, "I spoke to him several times and with the support of his personal friend, President Muhammadu Buhari, he has been able to increase his road networks in Abiriba.
"All the roads in Abiriba were built by him, beginning from when he was governor. No other person has added a meter to Abiriba roads and we are happy for his goodwill to us. If Abiriba wants more than 80% of the roads to be completed , we must vote OUK. "He added that "since a good product sells itself , OUK has sold himself to Abiriba community long ago and Abiriba votes belong to him and all APC candidates."
The campaign reached its crescendo when Kalu sang and danced with the people.
Speaking last, Kalu said he has not come to campaign but to remind Abiriba people where they have been and where they are going . He said the PDP leaders spend valuable time on making excuses rather than delivering developmental projects.
He recounted his days as governor and how salaries and pensions were duly paid without counting it as part of his achievements . "But today , Salary payment is seen as utmost performance and yet they can't even pay salaries.
"I gave Abians free education as governor and there was infrastructures in place" the senatorial candidate said
He charged the community to vote all the APC candidates especially President Muhammadu Buhari
In appreciation of Kalu's goodwill, hundreds of Abiriba people defected to the APC including elderly men and women.