Former Aviation minister, Femi Fani-Kayode has accused President Muhmmadu Buhari of not showing care to Nigerians by addressing the Nation over the outbreak of Coronavirus (COVID-19).
Kayode, an ardent critic of President Buhari alleged that had it been cows are the ones affected by the deadly coronavirus Mr. Buhari would have called for a national broadcast.
FFK's statement follows the growing tension in Nigeria of the President inability to convene a national press conference over the COVID-19 in the country.
Reacting through his official twitter handle, Kayode wrote…
"If cows had been the ones affected by #coronavirus &were dying all over the world Buhari would have done a national broadcast by now &told us that what we are facing is the greatest tragedy in world history.Which type of leader puts the lives of cows before that of human beings?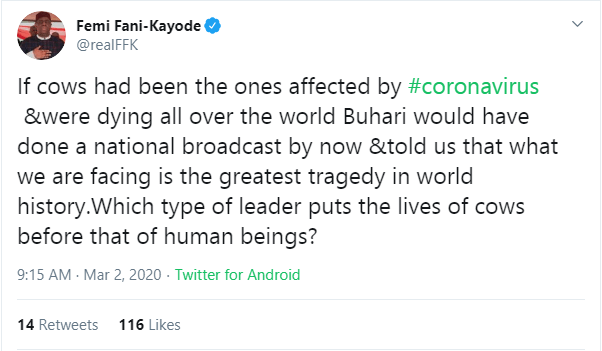 It should be recalled that Nigeria has recorded its first case of the virus, which the patient was made known to be an Italian national working in the country.
According to reports the patient has been placed in treatment with the Infectious Disease Hospital, Yaba, Lagos State.