By Ngozi Onwukwe
Did you know 'Dettol Original' also has fake one? It doesn't matter that the name was ORIGINAL, which makes it easier to penetrate market, the imitation is still out there.
I once bought the imitation (unknowingly) and the first day I used it to bath, it was nothing but confirmed hoax. I tried to manage it to finish bathing because I was late for work.
The worst is, I normally buy soap in roll, so it's now clear that I bought Fake Dettol soap in roll and I'm sad to be a victim of this fraud.
The experience that I had was terrible. While bathing, you won't perceive any smell that smells like Original Dettol. Yes, if you've been bathing with Dettol, be it the liquid or the soap, you will notice Dettol has outstanding odour that makes anyone detect it's Dettol.
If you are yet to understand what I am trying to said here, don't worry I will explain deeper.
"Dettol Original Soap with Pine fragrance provides trusted Dettol protection from a wide range of unseen germs. It cleanses and protects your skin for a hygienic clean and healthy, refreshing feeling everyday", that is exactly what the company wrote as the description.
"The product was launched over 80 years ago, and it has been a leader in germ protection helping to safeguard the health of families around the world through better hygiene". No doubt, the above description is true. But the fake one might ruin the market if not properly checked.
HOW TO KNOW ORIGINAL AND FAKE DETTOL
Fake Dettol Soap strike quite resemblance with the authentic one makes it harder to detect, but if you have been using the soap for long, you will notice that the Fake one has a red line with an inscription; "HARGA KHUSUS Rp 3400". Original one doesn't have such inscription.
Looking closely on the soap description (at the back), you will notice that the Fake one was written in a black ink. But the Original was written with 'white ink'.
HOW AUTHENTIC IS THIS REVEIEW?
Well, going through the company's the products listing, such soap doesn't exist. you can check out the company's product list here. (i.e – This is not a paid review)
See photos below for more details: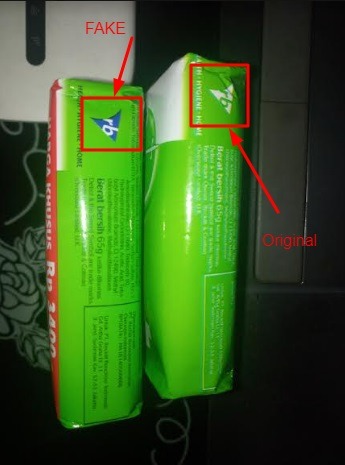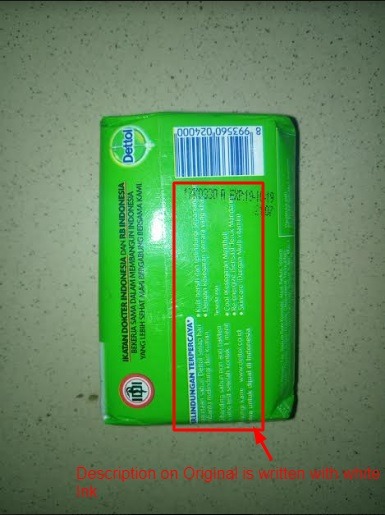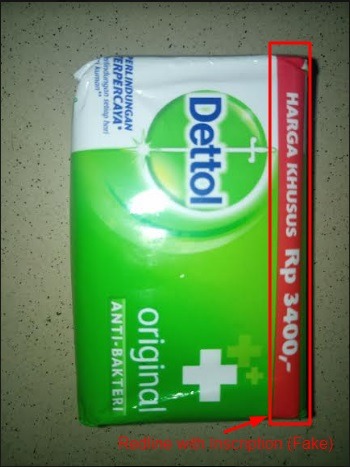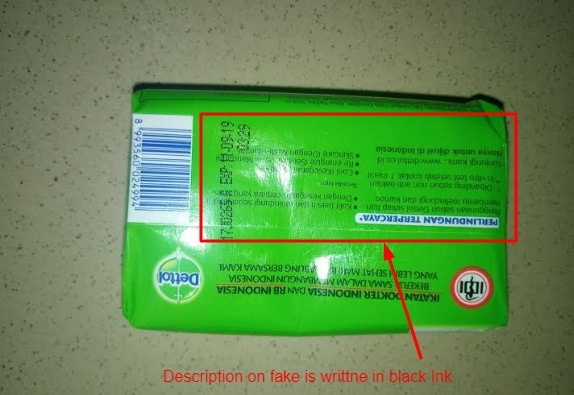 Above are the photos in summary of what I wanted you all to understand. If you think there is something missing or you have any contribution. Please drop it at the comment box.