…Time the fire started was midnight, fear of unknown did not allow most residents of the area to go and salvage the situation, says a resident.
---
Reports reaching ABACITYBLOG has it that over 20,000 Permanent Voters' Card (PVC) inside the office of the Independent National Electoral Commission (INEC) in Umu-Ikaa, Isiala-Ngwa South Local Government Area of Abia State has reportedly been razed by fire.
The incident comes barely two weeks to the 2019 Presidential and National Assembly general election in the country.
According to sources in the area, the fire started in the midnight of Saturday leading to Sunday, but was noticed very early on Sunday morning when it must have burnt what was over 10,000 of uncollected PVCs belonging to eligible voters in the state.
The source noted that the concentration of the fire in the rooms which were later said to be used in storing PVCs proved that it was a deliberate action of sabotage from one of the political strongholds in the state.
"We noticed the fire in the midnight, but the security situation in this election period wouldn't let anyone come out. One may try to come out and meet his end in the hands of hoodlums.
"You may also come out and police, army or even civil defence will tag you the culprit. Honestly, none of the residents tried to venture out due to this and as it stands now, a lot of people have been disenfranchised and it's painful.
"I also blame them too for refusing to collect their PVCs barely two weeks to election. That shows they really don't want to vote anyway. This Local Government Area is highly populated and can decide the outcome of a free and fair election.
"It's quite unfortunate that this place is now a no go area as we approach elections. Only unserious politician will be chasing after people without PVCs."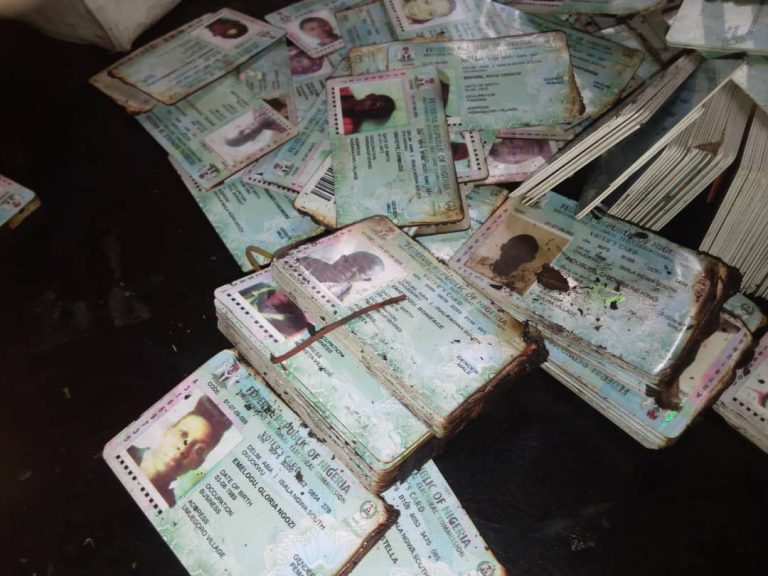 INEC Head of Public Affairs in Abia Mr. Bamidele Oyetunji confirmed the incident and stated that it occurred in the night of Saturday leading to Sunday.
Oyetunji however said all investigation is left in the hands of the police who are in the best position to find out the unknown persons that carried out such an act.
He also did not confirm the rate of damage as concerning how many PVCs that were burnt.
When contacted, the Police Public Relations Officer in the state, Mr. Geoffrey Ogbonna confirmed the fire incident, but said it was not the entire INEC building that was burnt.
Ogbonna said one of the rooms in the building was set ablazed through the toilet by unknown persons.
He also confirmed that the room in question was being used in storing PVC, but couldn't state the rate of damage recorded as well.