Taking two seeds of Garcinia kola(bitter kola) daily can serve as a preventive measure against Corona virus and can eventually treat the newly discovered respiratory illness called Covid-19.
Garcinia kola or bitter kola has purgative, antiparasitic and antimicrobial properties. The seeds are used for liver disorders, bronchitis, throat infections, colic, head or chest colds, cough and Covid-19. The corona which has being discovered to be transmitted more readily between humans than sars, dwells in the upper respiratory tract, where it is easily sneezed or coughed on to it's next victim.
But in some patients, it can lodge itself deep within the lungs, where the disease can kill.
The bitter kola which have chemical composition of crude protein at ratio of 39.5 and 99.92g/kg, lipid extract at ratio of 43.25 and 42.91g/kg, Ash at ratio of 11.42 and 18.62g/kg, and crude fibre at ratio of 114.02 and 153.44g/kg is a good preventive measure against Corona virus.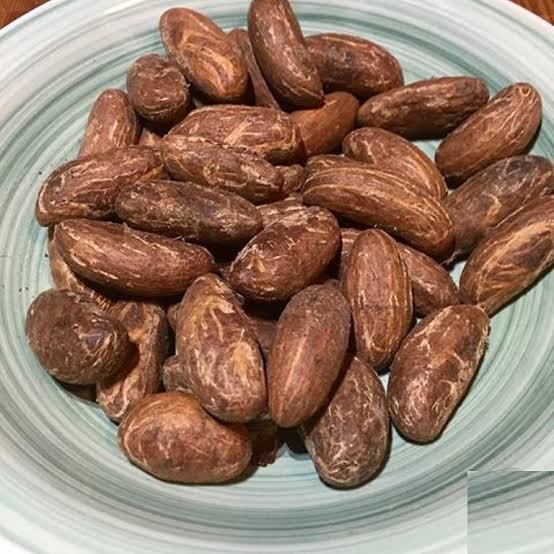 Potassium and phosphorus were the most abundant mineral element in bitter kola seed( 334.82 and 242.61mg/kg, respectively) which support blood pressure, cardiovascular health, bone strength and muscle strength.
Potassium deficiency can lead to fatigue, weakness and constipation. It can escalate to paralysis, respiratory failure, and painful gut obstruction, as these symptoms has a lot to do with Covid-19.
The world Health Organization (WHO) recommended an intake of 3,510mg of potassium per day and agree that most of the global population is not meeting this recommendation.
Potassium is necessary for the normal functioning of cells, nerves, and muscles (James, L. L, III, MD, Brookwood Baptist Health & Saint Vincent's Ascension Health, Sep. 2018).
The bitter kola also contains a total amino acid of 44.52% in the hull and 35.81% in the seed which stimulates respiration.
Covid-19 is a respiratory illness, an illness that affects the lungs, the bitter kola which contains fibre, is an important recommendation to mitigate killings from Corona virus. A diet high in fibre might reduce the chances of developing lung disease ( Tim Newman, January 27,2016).
Another previous study found a relationship between higher fibre intake and a lower risk of COPD( chronic obstructive pulmonary disease); another still demonstrated that higher fibre consumption was associated with a 40-50% reduction in respiratory-related deaths.
Another potential mechanism involves fibre's ability to change the makeup of the gut Flora. These changes could protect the body from infections and release lung protective agents, including neutrophils.
Fibre regularizes bowel movement, lowers cholesterol and can reduce risk of diabetes and heart disease.
Reporting from ISS said that 46% to 47% of those deaths(covid-19) had two or more diseases. The institute pointed out that among those deaths, most cases had suffered hypertension, ischemic heart disease and diabetes before.
The result infer that sticking to two seeds of bitter kola daily(Garcinia kola) will do your respiratory system a favour against contacting the deadly virus called Corona virus. Please pregnant women should stay away from bitter kola.
To stay safe, take bitter kola daily and avoid contact with Covid-19 infected persons.
Written by Hon. Imo Bright C.
---
Op-Ed: The directives on this article is solely that of the author and does not have the endorsement of Abacityblog
---
Want to own a Website? Register Your Domain Below for Cheap Price
---
---
---
Got A News, Press Release or Sponsored Publication? Send It To Us Via Email: Info@abacityblog.com
---