Nigerian man, known as Benjamin Ekuri Ofa is currently on the run after he perfected a fraud transaction of N250 million in the guise of Forex Trade with his victims money.
Mr. Ofa, according to reports is residing at 105 parliamentary road, before north west filling station, calabar and his mother, Kate Ekuri, a staff of CRUTECH.
The reports was made public by a twitter user known as Mrs. Bimbo who said the same man defrauded her boss of N36 million. According to her, although, she has been warned by her boss to keep silence over the matter but she has no other option than to let the cat out of the bag.
In a series of tweet, she narrated how the alleged con guy perfected the transaction and while people felled victims.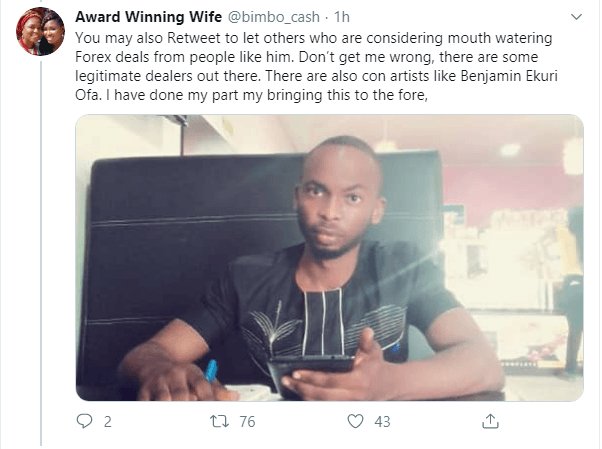 She wrote…
FRAUD ALERT  I am forced to betray the code of silence I gave to my boss
@Mazigburugburu1 to alert gullible Nigerians on the activities of one Benjamin Ekuri Ofa of 105 parliamentary road, before north west filling station, calabar and his mother, Kate Ekuri, a staff of CRUTECH

I would not have gone public with this young man's scam of my boss' 36m Naira if not for the hapless individuals we found out that he has also scammed in the course of our hunting for him.

One is a poor widow who handed over the entire death benefit paid to her at the death of her husband to this young man to invest for her pending when her children's school fees was due. The other is an old man who gave this dude the sum of 28m being cash he received as pension.
Then there is the senior Naval Officer whose allowances fighting in a joint military tax force was given to Ekuri to invest for him. We came in contact with these poor souls when the crack team of police men that are hot on his heels apprehended these people because they were in regular communication with him on the phone. Turns out that they also were victims of Benjamin Ekuri. The most shocking aspect of this whole situation is that Benjamin's mum seems to be an enabler of her son's fraudulent activities.

She shields him, remains in touch with him and frustrates all efforts to get her scum of a son to return peoples monies he collected.
Benjamin's modus operandi is to approach unsuspecting victims with mouth watering offers of forex deals.

He then brings prominent persons that he has already cajoled into parting cash with him to guarantee new clients. In our case, this Senior Naval Officer guaranteed him. who didn't carry out due diligence on this fraudster gave him a clean bill of health as being genuine.

This dude took over 250m of people's money and disappeared. As we speak, only the mum is in constant contact with him while we are told that officers of the EFCC and the Police high command have been trying to get him to no avail.

This is to warn Nigerians to be very careful about persons like him. We are pretty certain that he is working other victims as you read this, you may help them by Retweeting this so they save their hard earned money in this hard economy.

You may also Retweet to let others who are considering mouth watering Forex deals from people like him. Don't get me wrong, there are some legitimate dealers out there.

There are also con artists like Benjamin Ekuri Ofa. I have done my part my bringing this to the fore, do your part by making this go viral to serve as warning to other victims. The widow in question has been hospitalized for anxiety induced High Blood Pressure.
---
---
Got A News, Press Release or Sponsored Publication? Send It To Us Via Email: Info@abacityblog.com
---