Human right activist, Deji Adeyanju, has finally revealed the one man who led the peace talk between him and the IPOB leader, Mazi Nnamdi KANU.
It should be recalled that Deji was once an ardent critic of Kanu's Biafra movement, this is even as Deji had openly called Kanu a "fraudster".
However, as events may have it, Deji, after been assaulted by the Nigerian Police, during a protest he led against the alleged none performance of the present government, Deji declared that Kanu was absolutely right about Nigeria.
This, led him to apologized to the IPOB leader. He made the apology on his Twitter handle while calling on Nigerians to sit up and take back their country, according to him, Nigeria is being run by cabals.
After the apology, Nigerians has wondered who could make it possible between the two activist as both are seeking different things. But Deji has today let the cat out of the bag and no other person than a close friend of Kanu, Chief Femi Fani-Kayode.
Revealing the man in his twitter post, Deji thanked FFK for rebuilding the bridge of friendship between him and Kanu.
He wrote….
Let me specially thank Egbon @realFFK for rebuilding the bridge of friendship with my brother Mazi Nnamdi Kanu & yes, I expressed regrets over many of my criticism of him. Its only in a Zoo that characters like Buhari are fit to be leaders. Nigeria never had it this bad before.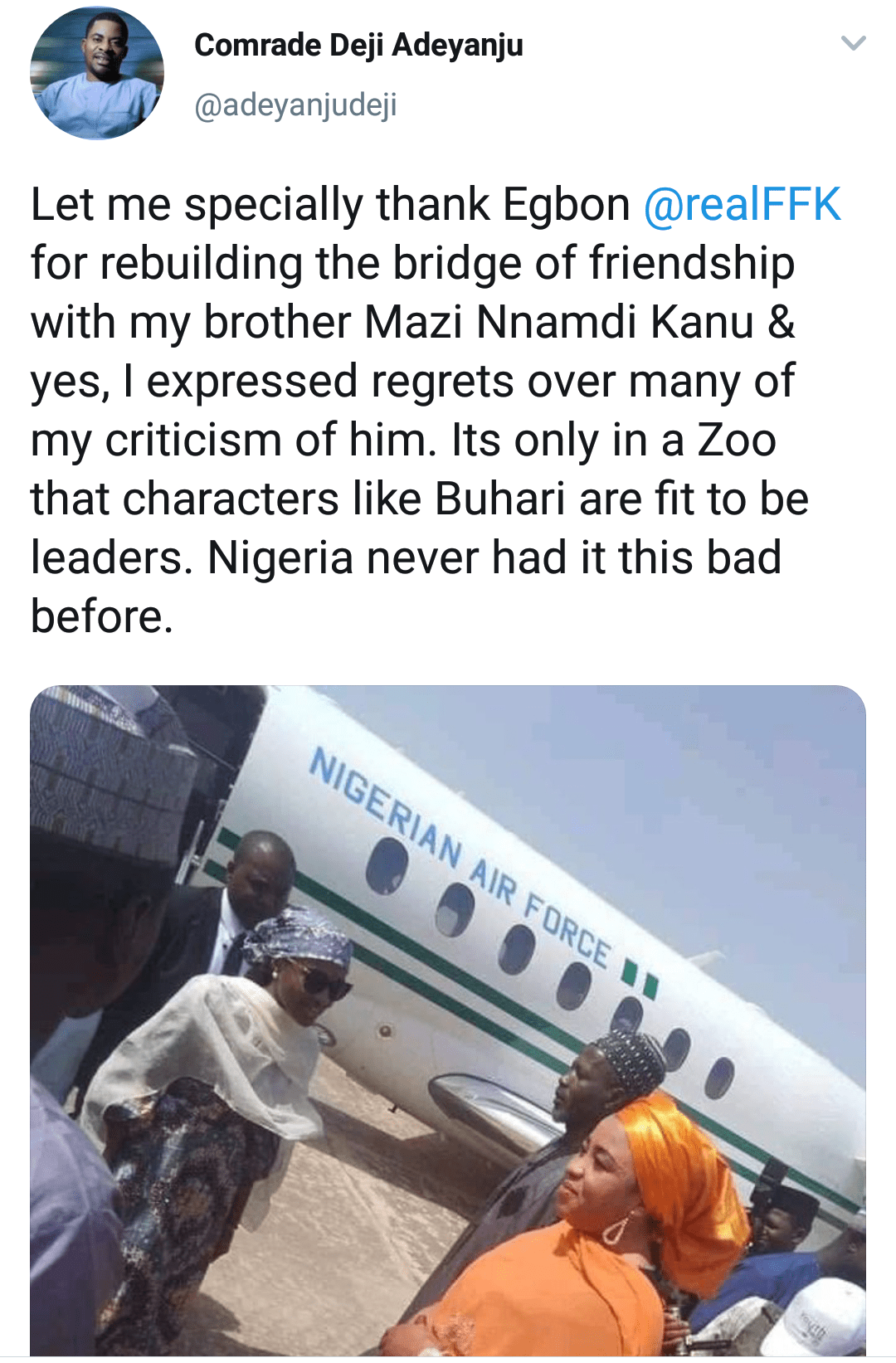 In his response, Chief FFK wrote…
"You're a blessing Deji. Thanks.
---
---
Got A News, Press Release or Sponsored Publication? Send It To Us Via Email: Info@abacityblog.com
---