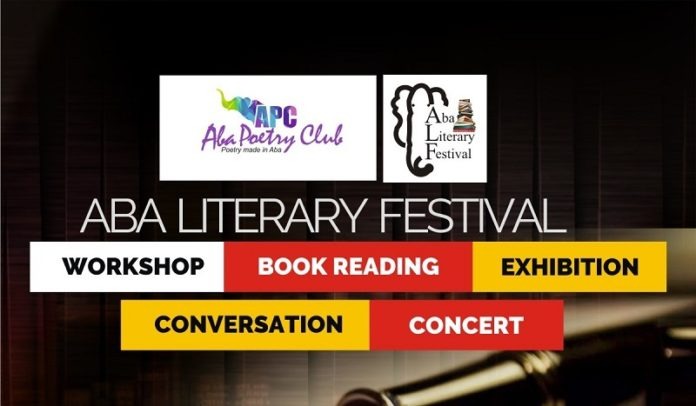 Aba Poetry Club is pleased to announce to the public her hosting of the maiden Aba Literary Festival, a literary harvest of creative works of arts of genres including: book reading, poetry and spoken word performances, lecture series and talk.
In the words of Mr. Prince Osinayah Agu, Club's president, "we desire to awaken the near-comatose state of love and appreciation of literary creativity in our city".
Indeed these words liken to those of American poet Archibald MacLeish which hold that since wars start in the minds of men, "it is in the minds of men that defences of peace must be constructed", lines of which today remain the constitutional preamble of United Nations Education Scientific Cultural Organization (UNESCO).
With the theme "Unchaining the Imprisoned Writer", the festival aims at helping writers in Aba realize and utilize their God-given creative talent for literary exploits. For the club, Aba is creating and carving its own niche and is, like Achebe will put it, "writing back" against hitherto narratives and stereotypes portraying her as artless and philistinic.
As is consistent with the stated goal and mission of the club, reading and writing (which form the 3Rs of reading, writing and arithmetic) is native to Aba and commerce, largely buying and selling, is not the be-all and end-all of city life in it.
The festival holds on Saturday, 28th September, 2019, at the Conference Hall of Aba Chamber of Commerce, Industry, Mines and Agriculture (ACCIMA), located at number 3 Umuimo road, Aba while time is 12:00 PM. This event features literati and other literary movements from outside Abia state and beyond whose Pierian fount will pool like a confluence in Aba for literary baptism, first of its kind in the city.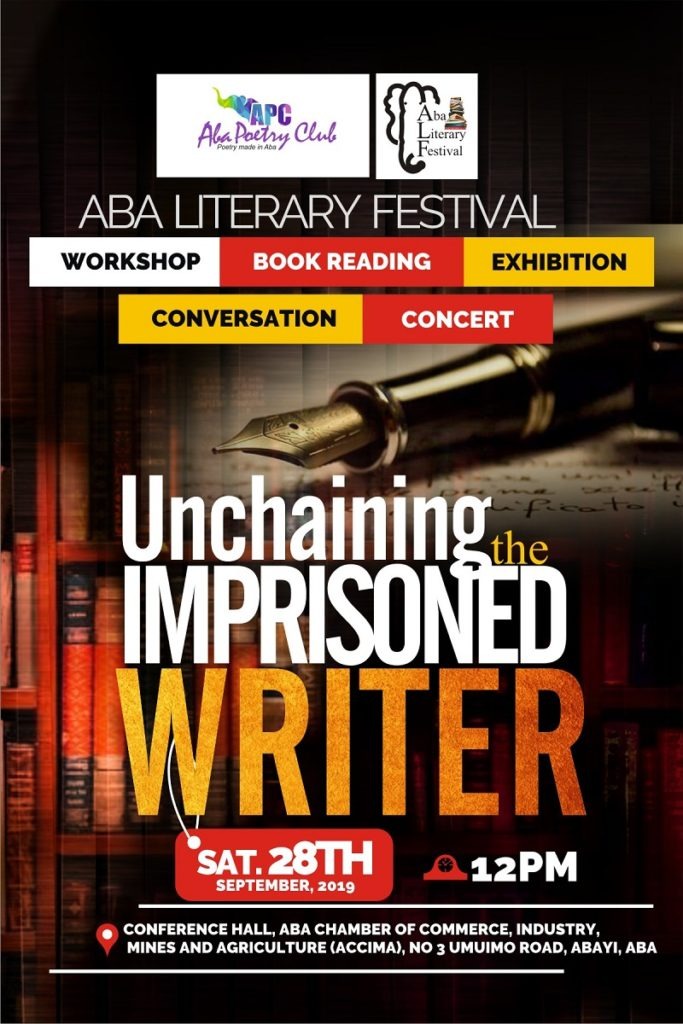 The guest lecturer is Dr. Uwaoma Uche, head, department of mass communication, Abia State Polytechnic, Aba, a seasoned scholar, researcher and academic of no mean repute. Other notable persons within the rank of intelligentsia will be featuring on talks, book reading and other sections.
As a club, since its formation in 2017, Aba Poetry Club has vigorously pursued and has spotted Aba within the nation's literary map through programmes within and outside the city and state. Laudable programmes the club has been able to carry out include: open Mic event; Aba is Story – an annual festival which maiden event attracted Dike Chukwumerije to the city last year; Rhythms, which has since been adopted as a biannual collaborative event of the club with the department of mass communication Abia State Polytechnic Aba and many more. Equally has the club embarked on advocacy and school outreaches as is in line with the goal of building Aba young minds and talents.
Aba Poetry Club is building and raising literary soldiers and elephants, bugle and trumpets of which shall sound as a literary tremor not just within Aba or Abia state but within the corners of our nation and world. With these landmark and epochal achievements, Aba, literary wise, is on the right part of history. This festival will resonate and Aba will never be the same.
---
Got A News, Press Release or Sponsored Publication? Send It To Us Via Email: Info@abacityblog.com
---