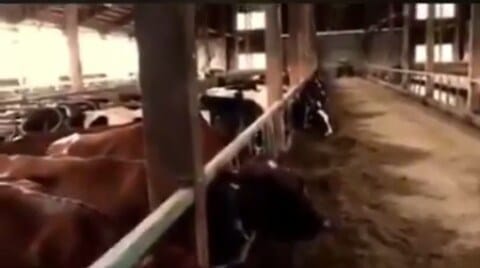 An igbo cattle rancher based in Europe has flaunt his cattle ranch, and schooled Nigeria government on how to run a cattle farm.
This following the controversies trailing the Federal Government "Rural Grazing Area" (RUGA) settlements for Fulani Herdsmen.
Speaking in video… The man who hides his identity said Nigerian government should learn how to ranch cattle and not the other way round.
Watch the video below:
Meanwhile, State governors in the South-East region has banned the movement of cows into the geo-political zone through the bush path by foot.
The governors stated this in a statement signed by the Director General, South-East Governors Forum, Prof. Simon Ortuanya.
They said henceforth, movement of cows into the zone should be done through the roads by using trucks in conveying the animals and offloading them to their specific cow markets.
"We will no longer allow foreign herdsmen to bring their cattle into our geopolitical zone through the bush paths by foot because this is what always cause conflict between our people and the herders," the governors declared.
The governors restated their position that they have not and do not intend to donate lands for the creation of Ruga settlements or implementation of the National Livestick Transformation Plan (NLTP) in the region, promising to support states where the initiatives will be established.
---
Got A News, Press Release or Sponsored Publication? Send It To Us Via Email: Info@abacityblog.com
---