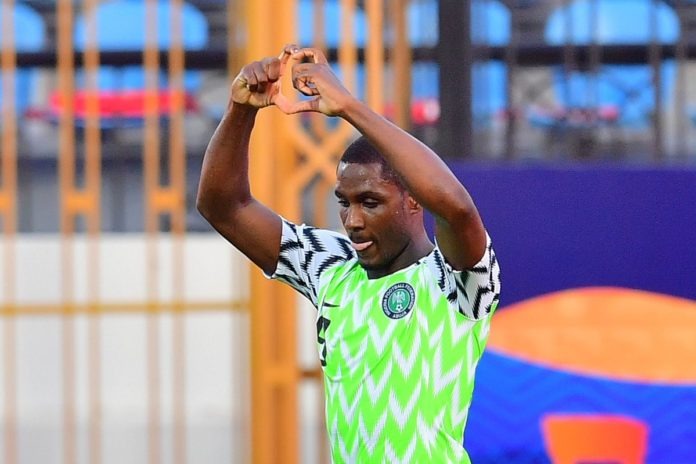 Nigerians on twitter has said to have forgiven the Super Eagles player, Odion Jude Ighalo, for his past mistakes, especially his performance in the Russia 2018 world cup.
The comments came following Ighalo's outstanding performance, as Nigeria trashed the defending champions, the Indomitable Lions of Cameroon on Saturday at Knock-Out stage of African Cup of Nation, Egypt.
Nigeria Super Eagles won the game with 3-2 win.
During the game, Ighalo scored twice and assisted Alex Iwobi with the winning goal that saw Super Eagles qualified for the quarter-finals. Reacting to Ighalo's amazing performance, Nigerians on twitter said because of today's match, all his sins has been forgiven.
Below are some of their comments after the match…
@Zinkarian said; "Ighalo, on behalf of the committee of critics and fans,we have finally decided to forgive you for what you did at the last men's FIFA worldcup, you earned it!!! Motm today yo! On to the next one #NGACAM #NGACMR #AFCON2019
@@AbdulganiuQudus said; #Dear Iwobi and Ighalo all your previous mistakes have been forgiven. You now have a clean slate, help us tell Akpeyi to better not be unfortunate again
Signed
All Nigerians #NGACMR
@benshama01 said; "OK I have to say this. After the Russia 2018 world cup, ighalo was one of the players I never wanted to see again in the @NGSuperEagles team,like most Nigerians I was hurt. Looks like dude is making up for his shortcomings now! S/O to him!! 👍👍👏👏
@BankyW said; "Ighalo had a MASSIVE game today MY GOODNESS!!!! All the people that were insulting him and his family after the world cup, please go and delete your tweets… the man is a KING!!!!! Nigeria we move!
@n_uwem said; "Dear Ighalo
Ur sins have been washed away and you are therefore free
From your beloved
Country
Nigerians
#AFCON2019 #NGACMR
---
Got A News, Press Release or Sponsored Publication? Send It To Us Via Email: Info@abacityblog.com
---