In Nigeria, where Tribalism and Religion has brought a divide, an Igbo man, Mr. Stanley Uzochukwu, has fed over 3000 Muslim to Iftar, in a bid to foster National Unity in the country.
-("An Igbo person" – is known as a one who comes from South-Eastern, Nigeria)-
One of the beneficiaries, Moha Jaji, who posted the news on social media said the man's character is worth emulating. This is even as he called on other region in Nigeria to do something new that will bring the country together.
The post on Facebook has gathered a lot of reactions. Also, shared on the country's most visited Forum, Nairaland.com, users have aired their views.
While some commended the Mr. Uzochukwu's effort, some berated him as a wasted energy and resources, citing that Muslims are not friendly people.
See the screenshot below: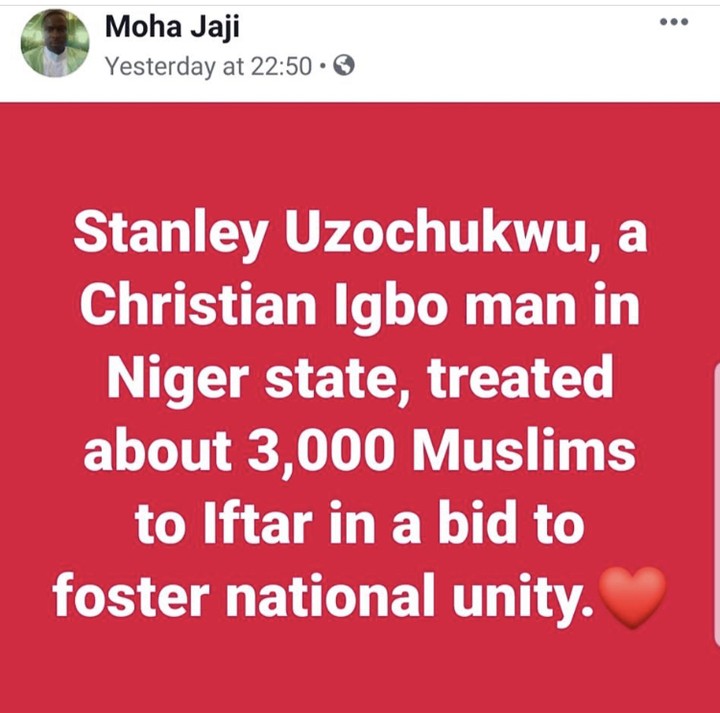 Meanwhile,  Iftar is one of the religious observances of Ramadan, and is often done as a community, with Muslim people gathering to break their fast together. The meal is taken just after the call to prayer Maghrib, which is around sunset.
---
---
Got A News, Press Release or Sponsored Publication? Send It To Us Via Email: Info@abacityblog.com
---